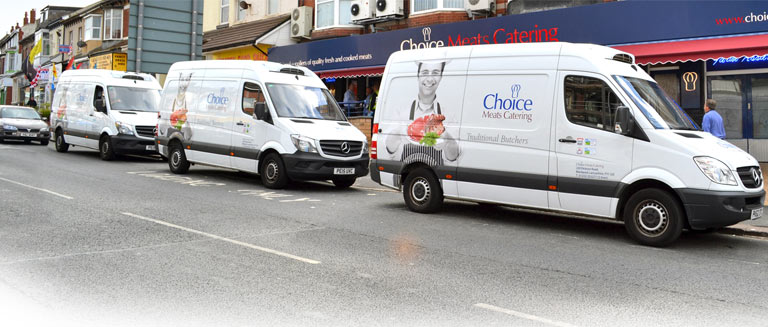 About

We opened our doors for the first time, as a traditional butchers shop in December 1989. Initially we served the local community, but it soon emerged that there were opportunities beyond just passing trade, with enquiries from local hotels restaurants and public houses

By 1996 the business had started to grow and this is when we expanded for the first time. We purchased the shop next door, which gave us the opportunity to increase our capacity and trade with much needed extra space. But, before long space was becoming a problem again, so in 2001 a major refit was done bringing the old fashioned butchers shop into the 21st century. Trade increased steadily before we outgrew our premises yet again, and in 2003 we purchased the old wine shop next door giving us a lot more storage.

After this, there was nowhere else for us to expand to on Dickson Road and with the shop getting busier and the catering trade increasing every year, the only step was to expand again.

In the summer of 2008 we decided to invest heavily in our own purpose built cutting plant which has allowed us to increase our capacity and improve efficiency.

This, in turn enables us to meet the demands of our customers and provide an excellent independent service and supply.

Based in Blackpool, Choice Meats are uniquely placed to meet the demands of any hotel, nursing homes, hospital, restaurant or catering establishment with a particular emphasis on local suppliers in the north west of England.
Choice Recipes
Christmas Turkey Cooking Guide


When you've gone to the effort of buying a beautiful Quality Turkey, you'll want to cook it to perfection. A delicious roast turkey is not difficult to achieve but - especially at Christmas - there is often so much else going on that it's easy for the cook to become harassed. The secret is in the cooking times – follow these new, simple guidelines, which have been meticulously tested by the British Turkey industry and you can't go wrong.
1. Weigh your turkey after stuffing.
2. Cover the breast with strips of bacon or smear with softened butter then cover loosely with foil.

3. Preheat your oven to 190°C (180°C for fan assisted ovens), 375°F, Gas Mark 5.

4. Less than 4kg weight? Cook for 20 minutes per kg then add another 70 minutes cooking time at the end.

5. More than 4kg weight? Cook for 20 minutes per kg and add 90 minutes cooking time at the end.

6. Remove the foil for the last 40 minutes to brown the top.

7. Ovens vary, so always test your turkey to make sure it is thoroughly cooked. Pierce the thickest part – this is usually the leg of a whole turkey - with a skewer or sharp pointed knife.
more