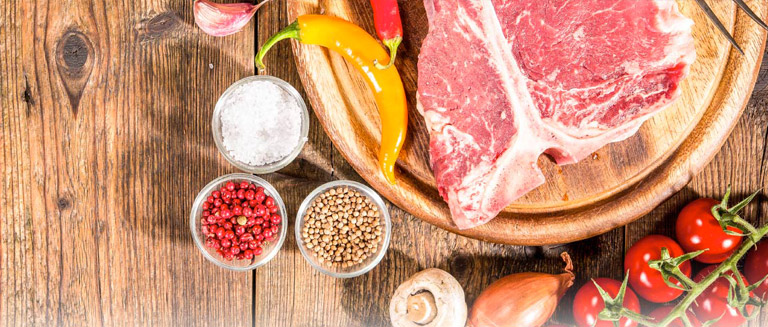 Recipes

[Click to go back]

Asian Spiced Burgers with Mango Salsa

Preparation Time: 15 minutes plus chilling time

Cooking Time: 12-16 minutes

Serves: 4

Ingredients

450g/1lb lean beef mince
5ml/1tsp turmeric
1 onion, peeled and grated
15-30ml/1-2tbsp freshly chopped coriander
10ml/2tsp garlic paste or 2 large garlic cloves, peeled and finely chopped
10ml/2tsp fresh root ginger, peeled and finely chopped
15ml/1tbsp garam masala
For the Mango Salsa:
1 ripe mango, peeled, stoned and finely chopped
1 small red onion, peeled and finely chopped
1 red chilli, deseeded and finely chopped, optional
30ml/2tbsp freshly chopped mint
15ml/1tbsp freshly chopped coriander
Grated rind and juice of 1 lime

Method:

In a large, shallow bowl mix all the burger ingredients together.
Using slightly damp hands shape the mixture into 4 x 9cm (3½inch burgers). Cover and chill for 20 minutes.
To make the salsa, mix all the salsa ingredients together in a large bowl, cover and set aside in a cool place, but not the refrigerator.
Cook the burgers on a prepared barbecue or preheated grill for 6-8 minutes on each side until cooked and any meat juices run clear
Serve the burgers in mini naans with the salsa.
Choice Recipes
Alfresco Roast Beef Salad


Preparation Time: 15 minutes
Cooking Time: No cooking required
Serves: 4
Ingredients:
375g/12oz cooked, sliced cold roast beef
1 garlic clove, peeled and crushed
25g/1oz Parmesan shavings
225g/8oz day old country loaf, roughly cubed
125ml/4floz extra virgin olive oil
450g/1lb ripe tomatoes, roughly chopped
5ml/1tsp horseradish sauce
10ml/2tsp fresh thyme leaves
Salt and pepper
1 small red onion, peeled and thinly sliced
Extra fresh thyme leaves, to garnish
more