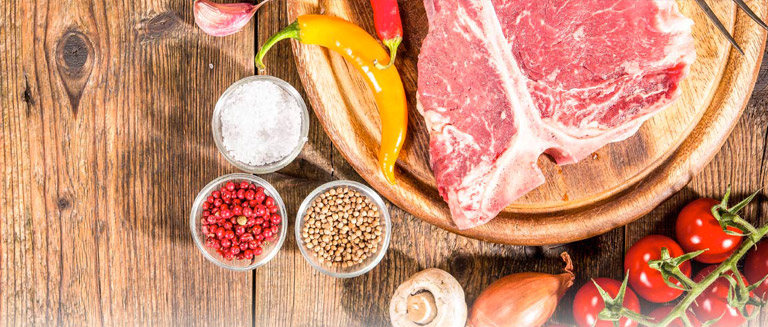 Recipes

[Click to go back]

Alfresco Beef Kebabs

Preparation Time: 10 minutes plus marinating

Cooking Time: Based on a 2cm/¾inch thick steak): Rare: 2½ minu

Serves: 6

Ingredients

675g/1½lb lean sirloin, rump or topside steaks, cut into 2.5cm/1 inch cubes
1 garlic clove, peeled and finely chopped
100ml/4floz Greek yoghurt
Grated zest of 1 lemon
10ml/2tsp ground turmeric
10-12 small cherry tomatoes
5ml/1tsp English mustard powder or cayenne pepper
Freshly chopped chives, to garnish
Salt and freshly milled black pepper

Method:

In a large shallow bowl mix together the yogurt, turmeric, cayenne or mustard, seasoning, garlic and lemon zest. Coat the beef in the marinade on both sides. Cover and chill for up to 1 hour.
Thread the beef with the cherry tomatoes onto 6 short metal or wooden skewers (previously soaked in water for 20 minutes).
Cook the kebabs under a preheated moderate grill or on a prepared barbecue to your preferred cooking time.
Transfer the kebabs onto a warm plate, sprinkle over the freshly chopped chives and serve immediately with a crisp salad.
Choice Recipes
Christmas Turkey Cooking Guide


When you've gone to the effort of buying a beautiful Quality Turkey, you'll want to cook it to perfection. A delicious roast turkey is not difficult to achieve but - especially at Christmas - there is often so much else going on that it's easy for the cook to become harassed. The secret is in the cooking times – follow these new, simple guidelines, which have been meticulously tested by the British Turkey industry and you can't go wrong.
1. Weigh your turkey after stuffing.
2. Cover the breast with strips of bacon or smear with softened butter then cover loosely with foil.

3. Preheat your oven to 190°C (180°C for fan assisted ovens), 375°F, Gas Mark 5.

4. Less than 4kg weight? Cook for 20 minutes per kg then add another 70 minutes cooking time at the end.

5. More than 4kg weight? Cook for 20 minutes per kg and add 90 minutes cooking time at the end.

6. Remove the foil for the last 40 minutes to brown the top.

7. Ovens vary, so always test your turkey to make sure it is thoroughly cooked. Pierce the thickest part – this is usually the leg of a whole turkey - with a skewer or sharp pointed knife.
more