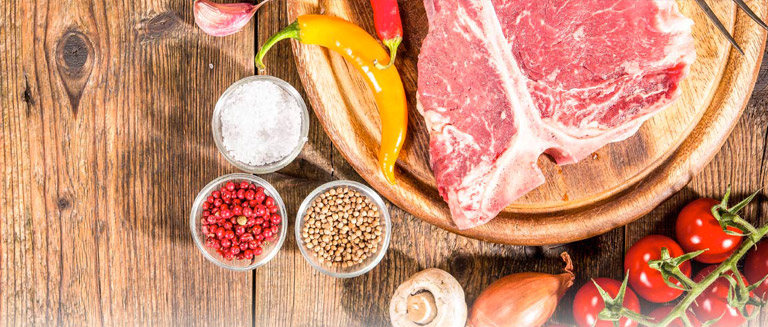 Recipes - Pork

[Click to go back]

Roast leg of pork

With sage and stuffing

Preparation Time: About 10 mins

Cooking Time: See recipe details

Serves: 4-6

Ingredients

Lean pork boned and rolled leg joint
2 Large sprigs fresh sage, roughly chopped
15ml (1tbsp) Oil
450g (1lb )Premium pork and apple sausages, slit skins and remove meat
Salt
Olive oil
4 Medium onions
Sage leaves
5ml (1tsp) Butter

Method:

Preheat oven to Gas 4-5, 180oC, 350oF.

Weigh the joint and calculate the cooking time - 30 mins per 450g/½kg (1lb) plus 30 mins (medium).

Dry the rind and score deeply using a sharp knife. Brush with oil and sprinkle with salt. Place on a rack in a roasting tin and open roast in a preheated oven for the calculated time (no basting or covering or you will have soft 'crackling').

Cut the onions in half horizontally (stalk at top) and using a spoon scoop out some of the layers leaving 2-3 in the shell. Roughly chop the removed onion.

In a pan heat butter and lightly fry onion. Remove from heat and allow to cool slightly. Add the sage and sausage meat and combine together.

Take a handful of mixture and stuff into onion shells. Prop up around the joint, drizzle with a little olive oil and cook for 40-50 minutes until onion soft and fully golden.
Choice Recipes
Christmas Turkey Cooking Guide


When you've gone to the effort of buying a beautiful Quality Turkey, you'll want to cook it to perfection. A delicious roast turkey is not difficult to achieve but - especially at Christmas - there is often so much else going on that it's easy for the cook to become harassed. The secret is in the cooking times – follow these new, simple guidelines, which have been meticulously tested by the British Turkey industry and you can't go wrong.
1. Weigh your turkey after stuffing.
2. Cover the breast with strips of bacon or smear with softened butter then cover loosely with foil.

3. Preheat your oven to 190°C (180°C for fan assisted ovens), 375°F, Gas Mark 5.

4. Less than 4kg weight? Cook for 20 minutes per kg then add another 70 minutes cooking time at the end.

5. More than 4kg weight? Cook for 20 minutes per kg and add 90 minutes cooking time at the end.

6. Remove the foil for the last 40 minutes to brown the top.

7. Ovens vary, so always test your turkey to make sure it is thoroughly cooked. Pierce the thickest part – this is usually the leg of a whole turkey - with a skewer or sharp pointed knife.
more