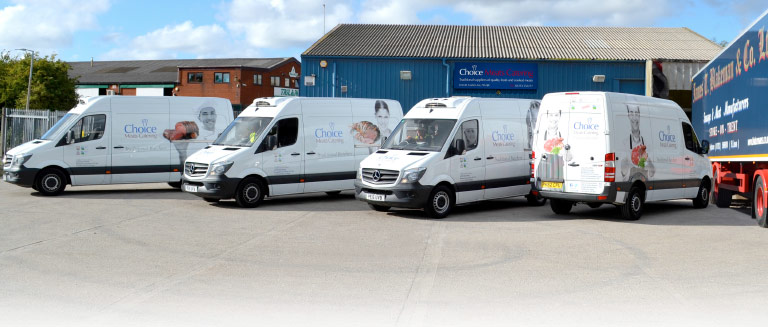 Trade

Choice Meats provide a professional butchery service and catering supplies to many businesses in the Fylde area, the North West of England and beyond. We are proud of our reputation for great service and high quality.

Our fresh meat is professionally prepared for you at our EC cutting plant in Poulton by our skilled and experienced butchers. This enables us to bring to our customers the consistent quality that they expect at value for money prices.

We offer beef, pork, lamb, poultry and game, to our large selection of deli products that includes home cooked beef, pork, lamb, various hams as well as individual & plate pies and various cheeses.

Businesses that we currently supply include hotels, (large and small), restaurants, cafes, pubs, schools, colleges and care homes. If you would like to know more about how we can help your business, talk to our friendly team on 01253 501671 or enquire by email and let us have your details so that we can call you back.

Please download our terms and conditions and credit application form here to apply for an account with us.

Please download a customer information request form using this link.
Choice Recipes
Alfresco Roast Beef Salad


Preparation Time: 15 minutes
Cooking Time: No cooking required
Serves: 4
Ingredients:
375g/12oz cooked, sliced cold roast beef
1 garlic clove, peeled and crushed
25g/1oz Parmesan shavings
225g/8oz day old country loaf, roughly cubed
125ml/4floz extra virgin olive oil
450g/1lb ripe tomatoes, roughly chopped
5ml/1tsp horseradish sauce
10ml/2tsp fresh thyme leaves
Salt and pepper
1 small red onion, peeled and thinly sliced
Extra fresh thyme leaves, to garnish
more