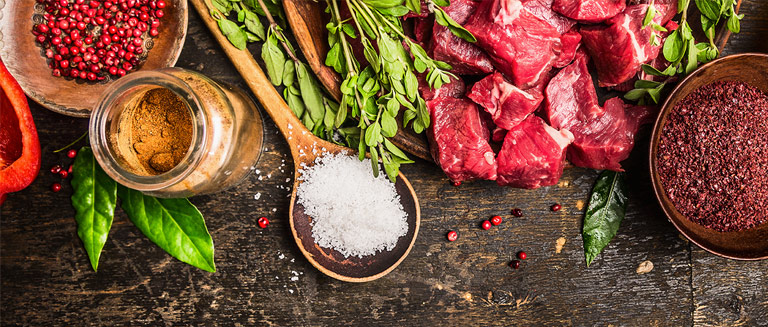 Stir Frying

Stir-frying is an ideal quick method of cooking meat as the thin strips cook in only a few minutes. It is only necessary to use a very small amount of oil (1tbsp) when stir-frying. Use a vegetable based oil which can be heated to higher temperatures. Use a non-stick wok or large frying pan. Always ensure that the pan or wok is really hot before adding the meat a little at a time - it should sizzle when the pieces are added. The meat should ideally be trimmed of excess fat and cut into approximately 1cm (½") strips, cut across the grain to help tenderise the meat and prevent shrinkage.

Method

Heat 15ml (1tbsp) oil in a wok or large frying pan.
Add the meat and stir-fry for the recommended time.
Add the hardest vegetables first (e.g carrots, onions) and cook for 2-3 minutes before adding the rest.
Add sauce of your choice (up to 150ml (¼pt)) and cook for a further couple of minutes.

Suggested vegetables for stir-frying:

Baby sweetcorn, Green beans
Bamboo shoots, Leeks
Beansprouts, Mushrooms
Broccoli, Mange tout
Carrots, Peppers
Peppers, Spring onions
Chinese leaf, Swiss chard
Courgettes, Sugar snap peas
Or try a packet of stir-fry vegetables from your supermarket.
Choice Recipes
Christmas Turkey Cooking Guide


When you've gone to the effort of buying a beautiful Quality Turkey, you'll want to cook it to perfection. A delicious roast turkey is not difficult to achieve but - especially at Christmas - there is often so much else going on that it's easy for the cook to become harassed. The secret is in the cooking times – follow these new, simple guidelines, which have been meticulously tested by the British Turkey industry and you can't go wrong.
1. Weigh your turkey after stuffing.
2. Cover the breast with strips of bacon or smear with softened butter then cover loosely with foil.

3. Preheat your oven to 190°C (180°C for fan assisted ovens), 375°F, Gas Mark 5.

4. Less than 4kg weight? Cook for 20 minutes per kg then add another 70 minutes cooking time at the end.

5. More than 4kg weight? Cook for 20 minutes per kg and add 90 minutes cooking time at the end.

6. Remove the foil for the last 40 minutes to brown the top.

7. Ovens vary, so always test your turkey to make sure it is thoroughly cooked. Pierce the thickest part – this is usually the leg of a whole turkey - with a skewer or sharp pointed knife.
more