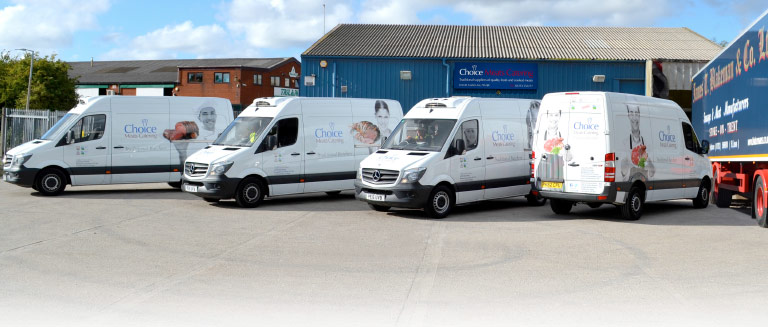 Accreditation

SFQC(now Acoura) is a well known and respected food assurance brand, protecting consumers and enhancing business throughout the global food supply chain. They provide our expert independent audits, assessments and certification of our products and business processes to ensure we comply with the highest industry standards, at our UK-EC approved cutting plant (no 4843).

We also use the services of WM Food safety as an external auditor, on food safety and training procedures.

An Independent UKAS accredited laboratory does microbiological work for us on shelf life, product sampling and water testing.

We are a member of the NACB and below is a paragraph from their website on why you should buy from an NACB member.

Why buy from a NACB member?

As a discerning caterer you strive to provide your customers with the very best food and service available. Purchasing your meat and meat products from an approved NACB supplier provides a number of assurances and standards that conform with many of the highest in the world.

This gives you peace of mind and confidence that the food you serve is safe and of the best quality.

So, why should you buy from an approved NACB catering butcher?

Caterers are prosecuted daily for breaking hygiene regulations and failing to apply due diligence by not purchasing meat and meat products from a reputable source.

NACB members must be accredited under the NACB standards scheme, which comprises three levels and is specifically designed with the operation of catering butchers in mind, or an equivalent (BRC accreditation or EU approval). Reduce the risk of prosecution and purchase from an approved NACB supplier.

The NACB standard is accepted as part of the Red Tractor and EBLEX Quality Standard Mark schemes delivering certified traceability and assured standards.

NACB supply can also provide a number of other benefits:

• Hygiene and Food Safety
• Quality Assurance Schemes
• Certified Traceability from Farm to Plate
• Consistent Supply
• Bespoke Specifications
• Portion Control
• Product Innovation

Quality Standard Mark/ Red Tractor

Choice Meats are a registered supplier of quality standard Beef & Lamb as part of the EBLEX quality standard mark scheme, and we are also Red Tractor members , this is one of the highest standards in food safety and hygiene, animal welfare and environmental protection, and a guarantee that the food can be traced back to the farm of origin, this is backed up by regular trace back inspections.

HACCP

All areas of production are subject to full Hazard Analysis and Critical Control Points are monitored and recorded, all based on industry standard HACCP principles.

Quality Policy

Choice Meats Catering Ltd is committed to the production of quality meat and meat products, placing a high priority on improving the quality and safety of its products.The company is committed to meeting high standards of hygiene throughout production to produce safe products that comply with all relevant legislation and customer requirements.The company will uphold these aims and will achieve them through staff training. The company has in-house training and also uses external agences to train staff to recognised industry qualifications.The company maintains a Quality Manual outlining all the major policies, a 12 point HACCP study and documented internal audits. The QM and HACCP study are audited and reviewed annually.
Choice Recipes
Alfresco Beef Kebabs


Preparation Time: 10 minutes plus marinating
Cooking Time: Based on a 2cm/¾inch thick steak): Rare: 2½ minu
Serves: 6
Ingredients
675g/1½lb lean sirloin, rump or topside steaks, cut into 2.5cm/1 inch cubes
1 garlic clove, peeled and finely chopped
100ml/4floz Greek yoghurt
Grated zest of 1 lemon
10ml/2tsp ground turmeric
10-12 small cherry tomatoes
5ml/1tsp English mustard powder or cayenne pepper
Freshly chopped chives, to garnish
Salt and freshly milled black pepper
more